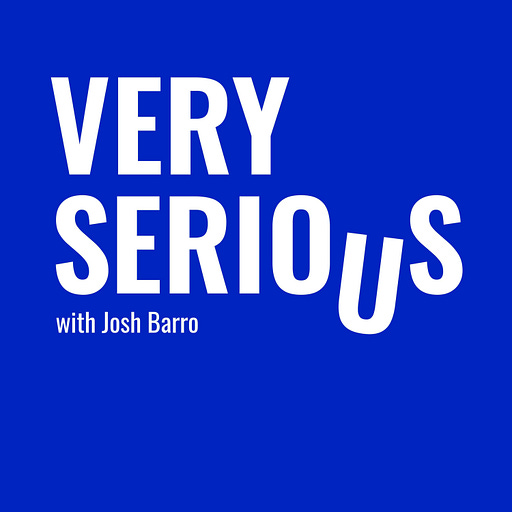 Apr 29, 2022 • 43M
Peter Suderman Schools Me (and You) on Cocktails
This week on the Very Serious podcast: Why you need a bottle of salt water on your bar.
Very Serious is a weekly conversation with top political commentators, columnists and policymakers, focused on how events in the news relate to major, long-standing controversies in politics, economics and culture. Host Josh Barro is joined by a rotating set of regular guests to work out the ideas behind the arguments on topics serious and not-so-serious. It's a great conversation across ideological lines that will leave you entertained, enlightened, and maybe even persuaded.
Dear readers,
I know, I said yesterday that today's cocktail post was only going to be for paying subscribers. But this is the first edition of the podcast where we're actually pushing the audio through Substack's pipes. We're still kicking the tires on that system — and for boring technical reasons, we couldn't find a good way to paywall the text while sending the audio to everyone who subscribes to the podcast through players like Spotify. We're working on it! But in the meantime, that means you all get to read about cocktails. How bad could that be?
It's almost summer. Well, it's not almost summer, but it's starting to feel like it might be about to be almost summer. It got up to 63° on Fire Island last Friday, which isn't beach weather, but it's good enough weather to write the newsletter out on the deck. And it's going to keep getting warmer.
One of the things that makes me excited for summer is that summer cocktails are starting to make sense again.
I love sour drinks. A "sour" is any cocktail containing spirits, citrus juice, and a sweetener. The most popular sour is the margarita, but the most basic one is the daiquiri: two parts light rum, one part simple syrup, one part fresh-squeezed lime juice, shaken with ice and strained into a coupe glass. Every other sour you might drink, including a margarita, is just a variation on the daiquiri — change up the base spirit, include a liqueur as part of the sweetening, use lemon instead of lime, add bitters or an egg white; the possibilities are extensive.
But these drinks make the most sense in the summer — they're cool, sweet drinks for a hot day. There's a reason so many of these drinks are served at resort bars in the Caribbean and Hawaii. They feel like they belong near the beach. That said, some sours are beachier than others.
On this week's Very Serious podcast, we did something a little different: I invited Peter Suderman, author of the Cocktails With Suderman newsletter on Substack, to talk with me about cocktails — how to approach them as an amateur at home and make them especially delicious, without doing anything extremely fussy or expensive. And Peter's view is there's a season within a season: late spring is for gin sours, with the rum drinks to come out later, when it's hotter.
My favorite sour is the mai tai — light rum, golden rum, orange curaçao, orgeat (almond syrup), and lime juice, shaken, strained, and served over ice, ideally garnished with an orchid blossom. I've talked before about how partial I am to Hawaii, where Zach and I went on our honeymoon, and part of why I love a mai tai is it reminds me of being there. But it's also a beautiful, balanced drink, with surprisingly complex flavors — with a high quality orgeat and orange liqueur, you can really taste those almond and orange notes punching through the otherwise-overpowering lime and rum.
But I also think Peter is right that drinks like mai tais are not quite yet in season. I wouldn't generally serve one in April, nor would I serve one at any time of year as an aperitif. Mai tais are for the afternoon. If I want to greet guests at dinner with a sour, I'm more likely to reach for an aviation: A gin sour made with lemon juice, maraschino liqueur, and creme de violette.
Peter wrote recently about the aviation. It's one of the great gimmick drinks, because it's purple on account of the creme de violette, and yet it actually tastes good. I personally like the drink's astringency — when you use the classic recipe, its balance is less sweet and more sour compared to, say, a margarita — but Peter advises to balance the drink out with a little extra sweetness from honey syrup, and a few drops of saline solution. Yes, saline solution: You salt your food, so why wouldn't you salt your cocktails? Salt is a flavor enhancer even in liquid form.
I'm pretty good at home bartending, but Peter is better at it than I am, and I learned a lot from him during this conversation. And I think you'll find it very interesting, too. You can listen through the embedded player above — the podcast is now hosted through Substack, which we believe will help us give you better integration with the newsletter — or you can listen, as previously, through any of the usual podcast apps — your access to the show through any of those platforms shouldn't be impacted, but please reach out and let us know if you have any technical issues.
This is also the first episode of the podcast for which we're providing a glossary and a transcript. Peter and I discussed a number of recipe books and products; the links for those are below. As always (unfortunately!) we collect no affiliate fees for any purchases you make through these links, but we think these products are good and we appreciate your support as a subscriber to the podcast and the newsletter. Below the list of product links is a link to a transcript of the podcast — we're experimenting with this, but please let us know if you find it useful to be able to read the podcast in addition to listening to it.
Finally, a note about the old fashioned. I complained on the podcast that I often find this cocktail too sweet, and Peter's response was that many people put too much sugar in their old fashioneds. An old fashioned — made with whiskey, sugar, and bitters — is supposed to be balanced between bitter and sweet, and because it doesn't contain that much bitters, it also shouldn't get that much sugar — sometimes as little as one teaspoon of syrup per cocktail, Peter says. And yet, some recipes call for as much as a fluid ounce. Blech.
Sara has a good old fashioned game, and she has advice about the drink she learned from a sadly defunct neighborhood bar. She says:
Old fashioneds were $7 during happy hour at Sonny's Hideaway on York Boulevard. Chris and I would walk there frequently at 5pm on Fridays, especially after Left, Right & Center. We got to know the bartenders, and they told us that because they sold so many of them during happy hour, they batched the bitters with demerara sugar and orange peel ahead of time. When they would make the drink, it would be a shallow spoonful of that infused angostura bitters, a three-count pour of Four Roses (later they switched to Evan Williams), a Luxardo cherry, and a healthy amount of stirring with a large ice cube (the stirring is important). In the winter, we pretty much always keep a tiny container of angostura bitters with sugar and orange peel in it.
Actually, this leaves me with one more thing to say, and it's about that three-count pour. I would reiterate something that Peter and I discussed on the podcast: You should not free-pour your cocktails. A professional bartender might do a pretty good job pouring consistent amounts out of a bottle equipped with a speed pourer by counting the seconds, but he's not getting the drink exactly right, and you're going to do even worse since you're an amateur.
If you're trying to make a cocktail well-balanced, you need to know the ratio of the ingredients you're putting in it, and you can't know that ratio without measuring. Some of the measuring products we list below will help you do that. Cocktails are not that complicated — they're a lot simpler than cooking — and I'm confident you have the wherewithal to get out a jigger and accurately measure the drinks you're making. It will pay off for you in the form of better flavor.
I hope you enjoy the episode. Please post in the comments if you have reactions, questions, or favorite ideas for sour drinks we didn't address in the conversation.
Very seriously,
Josh
---
References:
Peter's newsletter Cocktails With Suderman
Cocktail books and resources:
The Fine Art of Mixing Drinks — David Embury
Death & Co — the original is in New York City, and newer locations are in Denver and Los Angeles
Death & Co Modern Classic Cocktails and Cocktail Codex: Fundamentals, Formulas, Evolutions
Barware:
Dropper bottles for saline solution - pack of 2 (Amazon)
OXO Steel Angled Measuring Jigger - 2oz (Amazon)
OXO Steel Double Jigger - 1oz & 1.5oz (Amazon)
Cresimo Boston shaker set - 18 oz & 28 oz (Amazon)
Nick and Nora cocktail glasses - 5 oz (Amazon)
Sara's favorite citrus peeler. Much more control than a standard vegetable peeler. No pith!
---