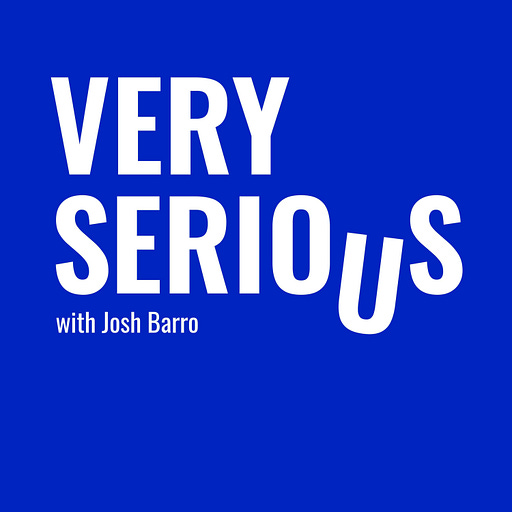 Mar 10 • 33M
Jason Furman on the Inflation That Keeps Going and Going and Going
The Harvard economics professor and former adviser to Barack Obama says inflation is not yet cooling down very much, and the Fed has a lot more hiking to do
Very Serious is a weekly conversation with top political commentators, columnists and policymakers, focused on how events in the news relate to major, long-standing controversies in politics, economics and culture. Host Josh Barro is joined by a rotating set of regular guests to work out the ideas behind the arguments on topics serious and not-so-serious. It's a great conversation across ideological lines that will leave you entertained, enlightened, and maybe even persuaded.
Dear listeners,
We're back with another episode of the Very Serious podcast, and this episode has a friend of the show: Prof. Jason Furman, who teaches economics at Harvard.
Or, as Jason put it to me, he's a bit of a foul-weather friend of the show:
Jason: Inflation does fluctuate a bit. Sometimes it looks a little bit better — during those times, you don't have me on your show. Sometimes it looks a little bit worse, and then you desperately call me and want me back on your show.
I suggested that the Jason Furman Very Serious Index could be yet another inflation indicator to keep an eye on, among all the others.
Jason: Yeah. And the big open question is, is that a lagging indicator of past inflation, or does that help us predict future inflation?
Indeed, the inflation outlook has worsened in the last few months. It looked like we were making progress in cooling inflation toward the end of 2022, but after a combination of revisions to data and hotter reports in recent months, it now looks like we haven't actually made much progress at all. At the same time, the economy has continued to show decent growth and strong job gains — a set of facts that have economic analysts talking less about soft and hard landings and more about "no landing": the possibility that we will avoid recession for a substantial period while also experiencing persistently too-high inflation.
I talked with Jason about why inflation hasn't come down much despite the Fed's substantial interest rate increases, what can be done to tame inflation over the next year, and how we have ended up with the Fed as "the only game in town" — with monetary policy being the only useful policy lever, even if it is an imperfect one, for taming inflation.
I hope you enjoy the episode.
Josh
Episode links and references