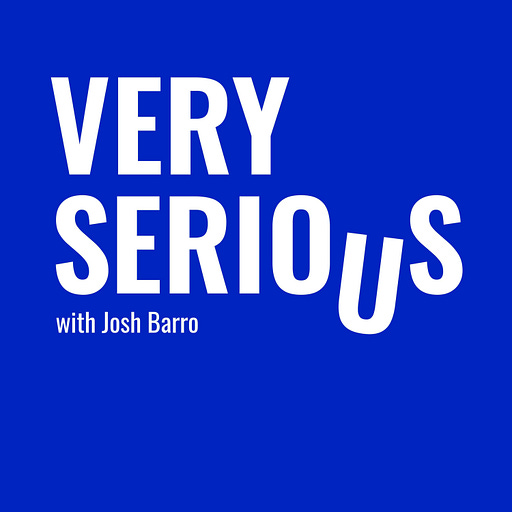 Jun 17, 2022 • 35M
The Political Purpose of the January 6 Hearings
How do you investigate something that already happened on national television?
Very Serious is a weekly conversation with top political commentators, columnists and policymakers, focused on how events in the news relate to major, long-standing controversies in politics, economics and culture. Host Josh Barro is joined by a rotating set of regular guests to work out the ideas behind the arguments on topics serious and not-so-serious. It's a great conversation across ideological lines that will leave you entertained, enlightened, and maybe even persuaded.
Dear readers,
"Jan. 6 should have been a turning point in our politics," The Washington Post declared in an editorial last month. "Voters must recognize that where politicians stand on democracy is more important than tax rates, inflation, gas prices or any other policy issue."
Well, that's not going to happen.
I think even the Post understands that they're not going to get what they're asking for here. Inflation and gas prices will rule this election. Unlike the Post, I'm actually pretty sympathetic to how the electorate chooses to prioritize, for three reasons.
The first is that democracy is an instrument — it's supposed to ensure a government that delivers what the public wants. How can we expect people to focus on the importance of reinforcing institutions when those institutions aren't even delivering what they were looking for?
The second is that the link between politicians talking about "protecting democracy" and democracy actually being protected is tenuous. Democrats channeled all the energy from Donald Trump's denial of the 2020 election result and the riot he fomented at the Capitol into a failed effort to move a long-desired laundry list of election-related reforms bearing almost no relationship to the vulnerabilities exposed by the 2020 election result. The most relevant legislative reform — reform of the Electoral Count Act — has a decent chance to move through Congress on a bipartisan basis.
And the third is that demanding voters focus on "protecting democracy" above all else has turned, for Democrats, into an excuse — an argument for why Democrats don't need to compromise on ideology to attract more voters, and an argument for why they don't need to provide competent execution. It's an effort to win by disqualification — stolen base politics. Democrats need maximum urgency to deliver better economic conditions in order to prevent a shellacking in 2024, the sort of urgency that would have them prioritize as much US oil and gasoline production as possible. Talking themselves into the idea that people simply must vote Democratic because Republicans are unacceptable becomes a distraction from that. It lets them cling to unpopular positions and practices. It leads to this attitude.
As such, I wasn't very eager for the televised January 6 hearings. What happened on January 6 (and in the lead-up to it, with Trump trying to steal the election) was very important. But I have been very bearish on the usefulness of talking to the public more about it — it happened right in front of our faces, it's not a top priority for persuadable voters, and more time spent marinating on it can simply distract Democrats from more urgent political tasks to hold onto any part of power.
But I've been pleasantly surprised by the effectiveness of the hearings.
What I like most about the presentation is how focused it is on presenting Trump's actions as a crime. Not so much regarding the riot itself — as I discuss with attorney Ken White on this week's episode of the Very Serious podcast, it's almost impossible to meet the legal definition of incitement to riot, and Trump's urging for his supporters to "fight like hell," no matter how reckless, doesn't cut it. But the committee is making a compelling case that the Department of Justice can and should charge Trump with crimes related to his effort to pressure Mike Pence to spurn his constitutional duties and refuse to count the electoral votes that gave Joe Biden the election win.
Instead of mostly speaking to the voters looking for a political solution, the committee is mostly speaking to prosecutors looking for a prosecutorial solution, and I think that's the right choice.
This week's episode of the Very Serious podcast is an excerpt of the debut episode of Serious Trouble, my new weekly podcast with Ken. If you're not familiar, Ken and I hosted a show all about Donald Trump's legal problems, All The President's Lawyers, from 2018 to 2021. Serious Trouble will be a similarly irreverent podcast about the law, but it mostly won't be about Donald Trump — though it is this week, since Trump is dominating this week's legal news.
If you're already subscribed to Serious Trouble and have listened to the first episode, we apologize for the duplicate content. We'll be back early next week with another episode of Very Serious that we recorded today, featuring economist Allison Schrager on our new reality of high interest rates and recession risk. But if you haven't yet listened to Serious Trouble, I encourage you to listen to this episode. Ken and I discuss the hearings so far, the challenges facing the Justice Department if they intend to indict, and how a legal defense for Trump might take shape, or, the ways Trump might contend he didn't break the law because he really, really believes the election was stolen from him.
Going forward, both podcasts will be coming out weekly. We won't be releasing Serious Trouble to the Very Serious podcast feed — if you want to hear both shows, you'll have to follow both here on Substack or in your podcast player. And you can go here to do that now with Serious Trouble.
I hope you enjoy the conversation.
Josh