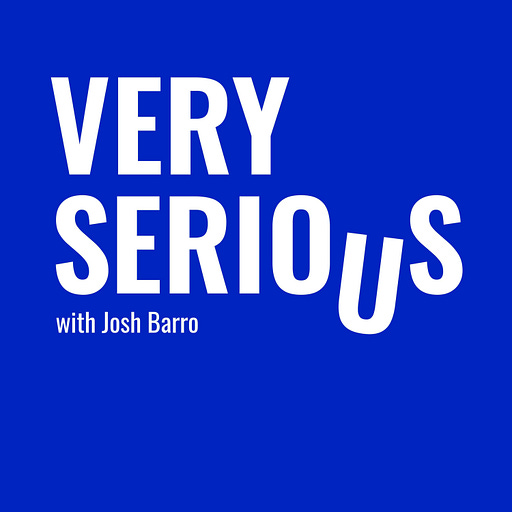 Jun 30, 2022 • 38M
Why Is Flying Such a Nightmare Right Now?
Part of it is a downside of the Great Resignation: Airlines aren't just understaffed, they have especially green staff from check-in to management, and they're working their way up the learning curve.
Very Serious is a weekly conversation with top political commentators, columnists and policymakers, focused on how events in the news relate to major, long-standing controversies in politics, economics and culture. Host Josh Barro is joined by a rotating set of regular guests to work out the ideas behind the arguments on topics serious and not-so-serious. It's a great conversation across ideological lines that will leave you entertained, enlightened, and maybe even persuaded.
Dear readers,
A lot of things aren't working quite like they're supposed to these days, and air travel is a prime example. Travelers are getting increasingly unreliable airline operations with more flights delayed and canceled, and a more chaotic experience at the airport even when flights go on time — at a moment when fares are very expensive and still rising.
And as with so many problems like this, there are multiple reasons for why this is happening.
For this week's Very Serious podcast, I spoke with Brian Sumers, editor-at-large at the travel industry publication Skift. Brian walked me through a lot of the "why"— I'll just summarize a few of the factors here. Listen to the podcast to hear our analysis and Brian's best advice for what you as a passenger can do to manage through it as best you can.
In the acute pandemic, airlines retired aircraft and let pilots lapse out of certification; they also cut their headcount sharply through attrition and voluntary buyouts (federal subsidies largely blocked involuntary layoffs).
Now the airlines are under-resourced and under-staffed, but consumer demand is strong — and customers are willing to pay high fares — so the airlines are incentivized to over-schedule themselves and hope the stars align so they can actually operate the flights they've sold. (If they weren't doing that, the supply of available seats would be smaller, and fares would be even higher.) And the FAA also bears some blame due to its own staffing issues in air-traffic control, although not as much blame as the airlines tend to suggest.
But quantity of staff isn't the only issue. There's also an issue of staff quality — one that I think we're seeing throughout the economy.
It's a side effect of the "Great Resignation" you've heard so much about. Americans are changing jobs at an unprecedented pace, and airlines in particular have a lot of new employees, because they've had to staff back up so quickly after shrinking. And anytime someone is new on the job, there is a learning curve — they don't do the job as efficiently as someone who's been at it for a long time, and when you add that up across an organization (or a society) you get backups and delays.
Some of the changes of function don't even involve changes of employment that show up in the government statistics. Gary Leff, the airline industry blogger who writes View from the Wing (and a Very Serious reader), told me a story about this at American Airlines.
"American sent 700 phone reservations agents to work at the airport," he said. "The systems are pretty similar, but being physically in front of the customer, being in front of 100 customers, and knowing by heart what to do next instead of checking what to do next — those things take a few minutes. And then those things compound across every customer, every flight."
Airlines are huge, complex operations, and right now they're being steered under especially difficult conditions (high passenger volumes, low levels of staff reserves) by both line staff and management
that is much greener than usual. Of course everything is falling apart.
But this phenomenon goes way beyond airlines. Having to do something that's quite a bit different from what you were doing three years ago, and not being quite as good at it as you were at what you did before — how many people's professional situation does this describe right now? It has to be a ton of people. This is even likely a good part of what we were seeing with the last few years' K-12 education disruption — virtual school is inherently worse than in-person school in many ways, but it's also something that neither teachers nor students had much experience with before they had to start. It's a worse thing that they were also worse at doing.
I think this is also likely a contributing factor to the meltdowns inside progressive organizations that have gotten so much ink over the last few weeks. Don't get me wrong: I believe these organizations have toxic work cultures driven by the ideology of their employees (I've written about that) but they've also had a lot of turnover, especially at the management level, at the same time they've had to change their manner of operation due to the pandemic. That turnover puts managers in a worse position to handle whatever the culture throws at them. I don't think it's a coincidence that the recent and especially public messes at The Washington Post came at a time that the paper is recently under new management.
Back to the airline industry, the cost of underperformance isn't uniform across airlines. Both Gary and Brian have singled out Delta as an airline that's wilting under the pressure of 2022, but that's mostly because it had so far to fall. Delta has long had a reputation for superior operational performance — fewer cancellations, fewer delays, fewer mishandled bags — and it has commanded a fare premium as a result, charging more per mile than its competitors and having a less generous loyalty program. That has historically meant higher profit margins than at United and American and a lot of approval from Wall Street.
"So they used to be so far above their competitors, and now they're operating like their competitors," Leff says. The big question for Delta is whether customers become less willing to pay higher fares to stay loyal with each canceled flight.
So what are the lessons from this? One is that there's a cost to staff turnover that goes beyond what you see on a payroll statement. Delta has been portraying turnover as a plus on its investor calls, with CEO Ed Bastian describing the financial benefits of "juniority," as high-paid seasoned staff took buyouts during COVID and have been replaced with more entry-level hires. Leff says it's not obvious Delta's personnel moves were a mistake ex-ante — we didn't know in 2020 that air travel demand would rebound so quickly, and if Delta had kept that staff on into a persistently weak market for air travel, they'd be bleeding cash right now. But knowing what Delta now knows about how strong the market quickly became, they probably wish they'd kept those seasoned workers on, so they could operate more flights more effectively and sell more expensive tickets.
Another lesson is that maybe we should look for ways to change less. The Great Resignation has been mostly sold as a positive story: it's really about people changing jobs rather than quitting work, and presumably we're all finding opportunities that suit us better than what we did before. Certainly, I'm enjoying making this newsletter and podcast independently on Substack. But all that switching has a cost — it's taking everyone a while to get up to speed, and maybe we should try harder to find ways to keep some things working like they used to.
Of course, there are also much more specific lessons about what you should do if you're trying to travel by air during this summer of repeated airline meltdowns. Listen to the podcast for that, and I hope you find Brian's tips about surviving the airport to be useful.
I'll be back tomorrow with the Mayonnaise Clinic. If you have any last-minute questions, please send them to mayo@joshbarro.com.
Very seriously,
Josh
---
A transcript of the episode is here.
Links:
Brian's columns at Skift, including this recent one:
Josh's writing on the travel industry, discussed in the episode:
American Airlines Wants To Be Nice But Doesn't Know How (New York Magazine, 2018)
From Marriott's 2015 acquisition of Starwood:
1
Perhaps the biggest personnel issue is at the senior management level: Key seasoned executives, like Delta Air Lines COO Gil West, left not just their jobs but the industry, and they took institutional knowledge about how to keep airline networks running with them.